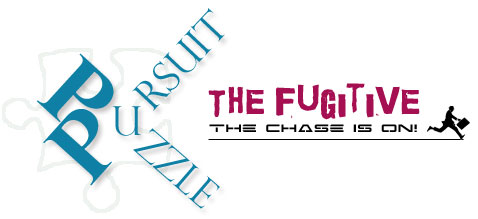 | | |
| --- | --- |
| Title: | Puzzle Pursuit: The Fugitive |
| Date: | June 26, 2010 |
| Location: | Old Town/Little Italy, San Diego, Ca |
| Number of Teams: | 26 (About 100 Players total) |
| Type of Event: | Charity Fundraiser for Outdoor Outreach |
| Theme: | The Fugitive is loose in San Diego. Can you decypher the devious breadcrumb trails of clues left behind and capture The Fugitive, or will you be left behind? |
THE RESULTS ARE IN
Race Day Photos
Read about last years event,
The Dresden Codex
A hole punch, two paper-clips, a piece of foil, and a gallon of water. Useless objects? Not if you're participating in Outdoor Outreach's second annual Puzzle Pursuit. Last year players delved into the puzzles of a mysterious Mayan artifact, but this year's race will take teams on a frantic chase as they race to uncover the clues and find the finish line in
Puzzle Pursuit: The Fugitive.
Raising money to directly benefit the hundreds of at-risk and underprivileged youth that Outdoor Outreach serves has never been so fun and so intriguing. Part Amazing Race and part Sherlock Holmes, Puzzle Pursuit will encourage out-of-the-box thinking as a devious fugitive leaves a breadcrumb trail of clues for teams to follow. Whether you're a first time puzzler or a seasoned solver we know you'll enjoy this unique event. The question is, do you have what it takes to unravel the clues, or will the fugitive get away?
The Chase Is On!